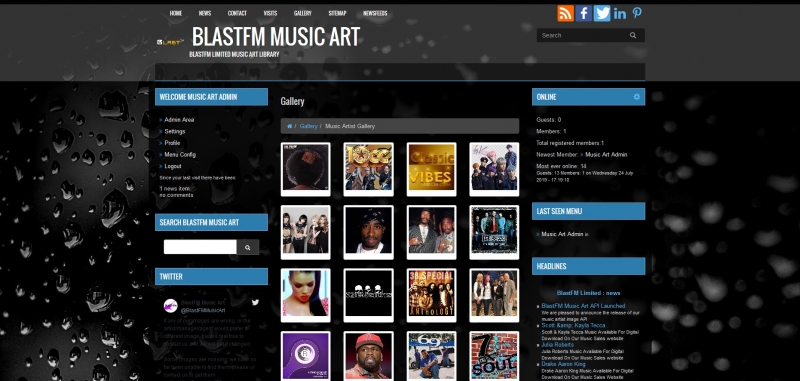 BlastFM Music Art is owned and maintained by BlastFM Limited
Our Music art website is now operational and is providing the images for all of our stream players and web pages that show images for the current playing songs.

We have developed an API system that allows remote systems to request images for an artist/title from our library of images.

Our API system requires a valid API key to be able to access our images.

If you are interested in finding out more about our API system or how you can get access to our API, please send us a comment and we will respond. An introductory offer of $10.00 per month is currently active so get your API registered while that offer exists.
You can currently purchase an API key to gain access to our music art library for $10.00 per month
---
Online
Guests: 2
Members: 0
Total registered members:1
Newest Member: Music Art Admin
Most ever online: 43
Guests: 43 Members: 0 on Wednesday 28 December 2022 - 16:48:04
Headlines
»
Eurovision Hopefuls Start To Emerge


There are many ways to promote music, but could entering the 2023 Eurovision Song Contest be the best route to success for one of this year's entra...

»
MELT Festival unveils full line-up for 2023 edition


Róisín Murphy, Channel Tres, KI/KI, LUXE and slowthai are amongst names added to the final programme listing

»
When The Best Of Early Metal Made The Worst Album Ever


The creation of every album has a story behind it, and the primary goal of many *music promotions is to package that tale into a form that makes pe...

»
Obama's Favourite Songs May Surprise You


Those who follow *Barack Obama on Twitter know the former president of the USA shares his end of year playlist every December. So, what featured in...

»
Rinse FM acquires pirate radio station Kool London Radio


With a new roster of DJs and MCs, it will relaunch as Kool FM later this year

»
Tributes Paid To Groundbreaker Terry Hall


Music promotion companies are always looking for something original, but few many make as much of a mark as the pioneering multi-racial bands Terry...

»
The Most Forgotten Number-One Artists


It is notable how many music artists have reached the coveted top spot of the UK singles chart and promptly disappeared from the music landscape af...

»
The Most Controversial Christmas Number Ones


In the United Kingdom, one of the biggest single weeks for music promotion is the week leading up to Christmas Day, Here are some of the most contr...

»
Must You Choose Between Education And A Music Career?


There are many famous people whose careers in entertainment or sport marked a significant switch from plans for a career based on academic attainme...

»
BSB Remake Of 'Last Christmas' Flies To No 1


Backstreet Boys secures their first US number one in over 20 years with the remake of Wham!'s Last Christmas, in time for the festive season, Blast...
»
Welcome to BlastFM Security


BlastFM Security Systems has been created as a central system for blocking/banning users on our networks. This website is designed as a front end ...
»
Welcome To Blast Records


BlastRecords website uses some very up to date methods to ensure the best possible user experience. While we try very hard to make sure that everyt...